Before I go on writing this post, Let me just ask you.
How do you pronounce INQ
? Is it I-N-Q (letter by letter), OR is it IN-Q? Guess what? Both are wrong.
It's pronounced as "Ink"
(: Now you got it right, let's proceed with the post!
Was invited by
Singtel
to attend the Launch of the
INQ Mini 3G
. Since I was reading 10 bloggers were raving about how good this phone is, i decided to RSVP and checkout the phone myself
(:
The event was held at Supperclub!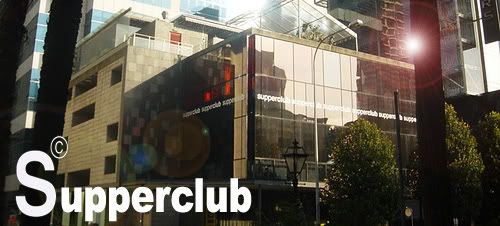 The venue was one of the reasons why I decided to turn up for the event =/
"
Yes, you are looking at the interior of Supperclub. Ya, those are pillows...
"
I heard people talking about how cozy Supperclub was, how stylish and "bedroom theme" the place is and I always wanted to check it out myself.
Finally!
♥
Ok, enough about the place.
Let's move on to the event!
The launch of the INQ Mini 3G!
Blogger Stephen and Hpility was at the event too (: I had to rush to Supperclub after watching movie with the clique (Btw, Aliens in the attic is a great show!)

Can you believe i took like 20 mins just to get from Marina Square to Cityhall Mrt station?! I was super lost can! Walk one whole big round from Marina square :(
I was like Gulping cups and cups of Apple juice when i arrived. The waiter had to keep changing cups for me, so Pai seh
=/
Soon after some mingling and exchanging of namecards, the event officially started. Glenn Ong was the emcee for the night
(:
It was followed by an Introduction of the INQ phone by the Executive vice president of Singtel,
Mr Yuen
and CEO of INQ,
Mr Frank
. Everyone was paying attention on the presentation of what this Ultimate Social Media phone can do!
That's me seriously looking at the phone, trying out the various functions

(:
The

INQ mobile 3G

is a slimline Social Mobile! There is like

Twitter

,

Face

book

,

IM

and Email all integrated into this handset. With 3G, the application are always on, and just one click away! You can like check your twitter/ FB status on the go

(:

One thing that i like is, the phone can grab your friend's facebook DP and display it as the contact photo, coolness right!

Pricing details will be out on 19th September!
Just like any other event i attend, There will be foooooooooooood!!!
I like the "Social Media Cupcakes!" Took the Facebook one (:
Randyys
The "Glutton"! AHAHAHA.
Ok, joking.
I definitely had more than him
=/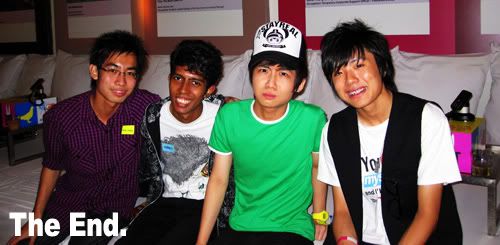 Ok, last photo. Actually there were other bloggers like
Jayden
,
Nadnut
,
Claudia
etc but forgot to take photo with them. Had late dinner after that and home-d!
P.s:
Got read what my tee says anot! It says, "
Youtube, Myspace and I'll Google your Yahoo!
" So suit the social media theme lor. *
Flick hair
* Byebye.