Okay, I'm probably the very last person to blog about Christmas, it's like
SO LAST YEAR
! (
13 days ago
)I was the first to consolidate all the photos but the last to blog about it
-__-
I edit the photos AGES AGO! but was too lazy to type the words. I'm such a
lazy blogger
NOT
. At least i bother to record down my memories regardless of when it happened not like those who don't bother at all lor!
This year's Christmas was spend in a rather special way!
We booked a room at
Studio M
hotel for Christmas! I've heard about Studio M quite a long time ago from my BMT mates and from what i heard,
EVERY
room has 2 floors!
AS IN
, there's a staircase in every room which leads to the sleeping area or something. I was damn excited to check this hotel out!
We arrived at around noon and the check-in queue was horrendous.
Oh wells, it's Christmas!
Wide sized instax with Mel and Jing Long while the girls queue!
MUAHAHA
Finally it's our turn to check-in after queuing for about an hour!!!!
Almost 300 bucks/night!
I was quite stunned when i entered the room. It's what i expected my future house to be! It's so modern and stylish which makes you go, "
Woah~
" Quite difficult to show how amazing the room is in photo. The steps leads to the second level which has a queen (
or king?
) size bed, a LCD tv infront, iPod dock at the side, super comfy!!! But the room is kinda small to accommodate everyone though.
When we look out of the window, it's the pool and suntanning area!
Naise~
Took a photo of us from the second level!
(
Btw, that's not all the people!
)
Joyce
the beauty blogger brought her makeup cosmetics that day (
Damn kua zhang alot!
)
Love full length mirrors!
*
take reflection shot
*
Theme for Christmas was formal so we can take chio shots! I
♥
my Santa hat!
True or Dare session at night! Did some really crazy stunts but Shhh... cannot say out!
PHOTOTAKING SESSION!!!
Wore semi formal just to take photos!
From the left:
JingLong, Me, YingZi, Joyce, Weijie, Qianyi.
Bottom:
Jiaqi, Mel
♥
Took lots of instax shots too!
Spam ah!!!!
Took zillions of funny webcam shots too! AHAHHAHAHAHAA
Ooo~
Champagne and Godiva chocolates in the mini fridge!
"
Yummmmmmmmmmmmmmm
" *
goes on forever
and ever
*
LOL
How can we forget gift exchange session!!!
My favourite part of Xmas, LOL
I got my gift super last minute (
during dinner!
) I practically searched the whole mall and ended up in Kinokuniya! I wanted to get something practical so that the receiver can use it instead getting common gifts like
chocolates
, cups etc. So i decided to get a pocket planner and a card instead!
Qianyi
received
Merci chocolates
which she opened and share it with us!!!!!
I received Burberry, the beat! Honestly, to me it doesn't matter what i get.
It's the process!
Yingzi
bought this Moss/algae thing which i always wanted!!!! Jing long got it instead.
LOL
Jiaqi
bought this drinking shots game! Which was quite interesting but
deadly
.
Jinglong
made this personalised photo key chain, super sweeet!
Jiaqi also prepared something special for everyone in this big present!
There are boxes in the bag, so what's inside!!!!!
It's like a mini goodie bag with old school sweets, Poppers and more!!!!
So cuteeee!
Everyone wore their friendship band which was included in the goodie bag!
♥
I suggested taking a "
Popper shot
" and it turned out quite well!
Look how happy everyone is!!! Love this photo!!!
☺
Johnnie Walker and the deadly drinking shots game. Most of us got drunk
-__-
That night was really crazy. Everyone started to get drunk except for
ME
, Jiaqi and Jing long. Everything was in a mess, quite a scene. Shall not go into the details.
One word - Crazy.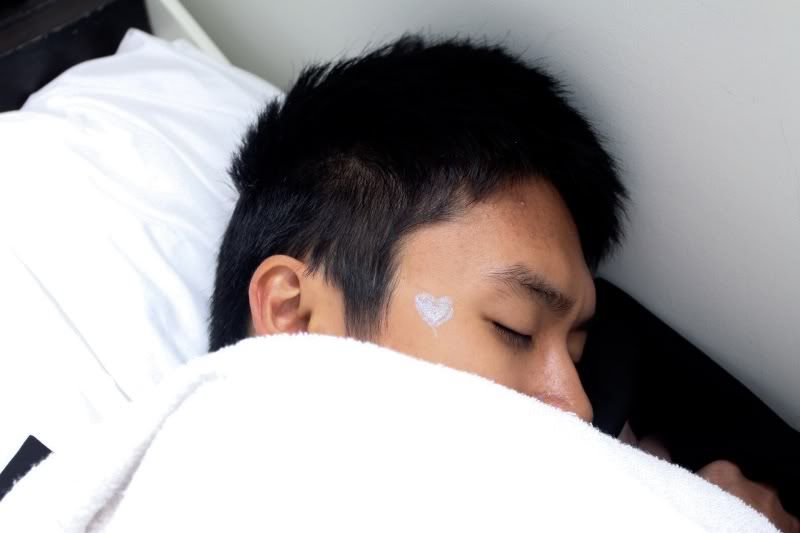 Woke up with a heart shape on my face -__-
Ordered Mcdelivery breakfast right into our room, so cosy!
If only everyday can be like that!
...and finally we checked out at noon. Everyone feeling shagged and tired.
That's how i spend my Christmas in 2010!