Everytime I start with "

It's Day ___

", so this time it's gonna be different!
It's the 2nd last day in Malacca! (
Did I hear some ~ lame?!
) Whatever. It's like
Chapter 4
of this travelogue already and
ONE more post
and you will read no more of my Malacca trip. Is it a Good thing or Bad thing?
Oh wells.
Guess what We had for Breakfast? Macdonalds!
NOT.
Newton!
Not the one in Singapore, but something like it. After a little tour by the Taxi driver the night before, we decided to checkout the
Newton Village
for breakfast.
It's quite boring having Mac for breakfast for 2 consecutive Days!
The Newton in Malacca is a
Culture food village
, so we can expect different food from different part of Malaysia and also from other countries
(:
The place has a very cultural feel with those wooden tables and chair setting...
After looking though all the different stores, we decided to order abit of everything and Share! So there is like
Penang's

Cha Kuey Tiao
,
Taiwan's Egg

Chu Chang Fen
,
Rojak from Dunno where
,
Chicken Rice ball

from Malacca
and many more!
Not forgetting Satay and 2 Glasses of Fruit juice each!
All for breakfast!
Although it sounds more like dinner or supper
:/
Doesn't it all look appetizing? *
Drools
* (
But of course, there is a bit of photoshop here and there...
)
After a load of food for breakfast, we are ready to begin our
Actual Malacca tour
! It's like only
Day 4
where we really explore Malacca, first few days was more on shopping and checking out other places outside Malacca.
First stop:
Maritime Museum!
From the outside, it's a
HUGE
gigantic Ship which is a replica built according to the former Portuguese ship named "
Flor De La Mar
". There's like a history behind this ship, but I'm not gonna talk about it
(:
It's only RM3 for admission!
which is super duper ultra cheap. Let me convert...
It's only SGD1.25!
And the admission is not only for this museum but also includes another museum admission just opposite it! *
Good deal
*
While the Guys are Busy steering the ship to safety...
The girls are happily fiddling the Captain's hair
=___='''
Now to the Museum opposite, It's also a Maritime Museum
(:
AND it's air-conditioned!
Woohoo!
and there are replicas of weapons and vehicles inside!
"
Welcome on board the !@#$# Vessel
"
There is also life sized Helicopter in there!
Individual shots with the helicopter
(:
Here are 2 photos we took outside the museum, I can't help laughing everytime I see these photos, we are such good actors
(:
Don't you think so?
"
Die Rinn! Die!!
" *
Ta-ta-ta-ta-ta-ta
*
ANdy: "
Get Ready to fire!
" Rinn: "
Will it be loud?
"
Oh wells, Sometimes going to a Museum can be quite fun with the right bunch of people! Now who says Museum are boring! *
Secretly raise up my hand slowly...
*
Another place which is a
MUST-visit
in Malacca would be...
Christ Church.
The "icon" of Malacca. It's like a little market there where the side stalls will sell all sorts of cha-pa-lang stuff, look at the right hand side of the above photo! Rinn bought a hat! Until now I haven't never seen her wear the hat to school *
hint hint
* haha! I don't think she will wear to school lah...
Nothing beats 3 Scoops of chocolate ice cream in a Hot weather
(:
Our last stop in touring Malacca was
Jonker Street
!
It's just like our Chinatown in Singapore
(:
Jonker Street is also one of the MUST-go in Malacca
, there is a whole stretch of stalls and it takes forever to finish walking because we are always popping into each stall to see what they have got! Although we only went to 3 iconic places in Malacca, it took us almost the whole day! Can you believe it?!
Being lazy people, we decided to take a
trishaw
back to Dataran Pahlawan! It was super cool! I think it's my first time taking a trishaw (
Yes, i know - Noob.
) Wait, maybe I took it before, but this time it's in a foreign country!
Taking a trishaw is best for Sight-seeing
(: and also to take pretty photos like the one below~
Of course we need to take a group photo in the trishaw to remember this event
(:
Their trishaw is Zheng (
decorated
) until super flowery as you can see in the photo!
It's only RM5 per person.
Worth it
(:
We were super tired and was carrying our heavy shopping bag, so we decided to go back to the hotel to put down everything and then go out for Dinner!
Since it's the last night in Malacca, we brought out everything that we bought in the past few days and display it on our bed to take photos. Here is our "Harvest" (
Please take note it doesn't include the many things that we bought on the last day!
)
Rinn's harvest.
Huixin's Harvest (
Mostly food
) *Roll eyes*
Ryan's harvest.
The guys definitely can shop better than girls!
ARE YOU READY FOR THE ULTIMATE SHOPAHOLIC?
.

.
.

.

.
.
.
.
.
.
RAWR!
Here is a close up view of my Harvest, wahaha!
Maybe you can't really see what I bought, so
here's a breakdown
-
1
Sunsurf tee,
1
GAP formal shirt,
1
I love chicken Rice tee,
2
graphic tee tees, (
and a lot more tees
),
1
Hoodie vest,
2
handphone pouch,
1
Makeup pouch (
Not for myself!
), a few souvenirs, keychains, Mango puddings, Mochi and
the list goes on...
After taking photos, we decided to head down to
Pataran Pahlawan
to see what we can get for dinner with our pathetic amount of money left...
We had something like KFC
(:
Which is the cheapest & Most filling thing we can find.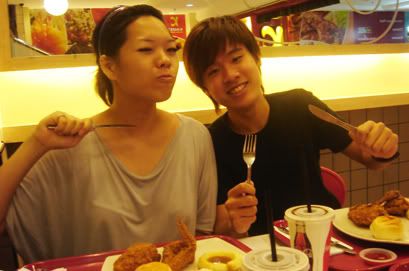 It was our
last
dinner in Malacca.
After dinner we went to walked around the mall and found some part that we did not manage to shop!
That is how big the mall is...
and i found the things that I wanted to buy, but I had no
$$
! I had to resort to changing my Sing dollars to RM, and
I REALISED I can slash my card
!!! (Which is something good and bad for me.)
After the night sleep, It would be the
last day
in Malacca.