The very last and final chapter.
Entitled
Home Sweet Home
.
4 days has passed in a blink of an eye. (
So exaggerated lor! I wonder who created this "blink of an eye" idiom.
)
4
days without logging on into MSN,
4
days without checking my email,
4
days without sms-ing anyone,
4
days away from technology.
Carefree, putting everything down to just relax and Enjoy.
*
Imagines
*
It's about to come to an end.
It's Day 5
, and we are not going to waste the last few hours in Malacca. We packed our luggage the night before going to sleep, so that we don't waste time packing the next morning.
By the way, this is how
messy
our bed is when we wake up
:/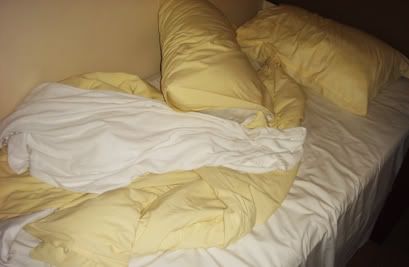 I have two pillows, Ryan has only one!
~ Neh ni Neh ni poo poo!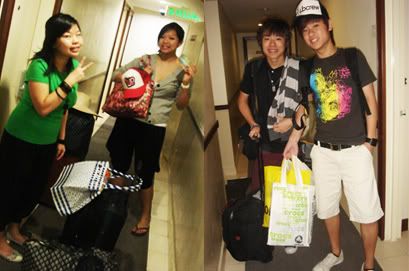 We came with like two bags each, but left with a lot more!
We had a bad time trying to pack everything into our bags, trying to squeeze as many things as possible! But in the end we still have to carry some on our hands.
Nope, Day 5 isn't gonna end here with - "
We then took the coach back to Singapore, The end.
"
INSTEAD...
We checkout of our hotel room, leave our belongings at the counter and we went for last minute shopping!
Remember I said in Day 4 that I realised I can slash my card?
Woohoo! (
Which is like the best thing and the worst thing that happened.
)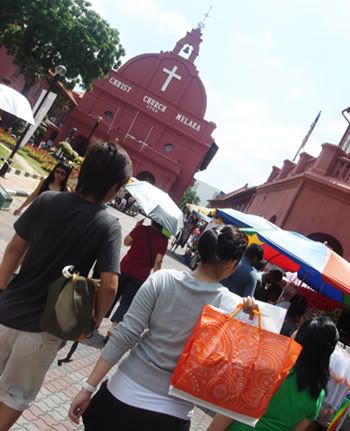 Off we go for some last minute shopping! We went back to Christ Church area to make some hand made keychain souvenirs (
I love my spelling checker!
) Ok, that's was random. So after touring Christ Church Again...
After which Hui xin wanted to buy
AUTHENTIC
nyonya to bring back to Singapore for her family so we went to Jonker Street to hunt for it!
Now when people think of Malacca, they will think of their culture and the nyonya, all thanks to
小娘惹
. I bet there is an increase in tourists during that period!
We had lunch at Jonker Street!
We had the famous
Afamosa Chicken Rice Ball
! I feel that almost every Chicken Rice stall in Malacca has the chicken rice ball, and After trying it out on Day 4, at the newton village, I felt it was
overrated
.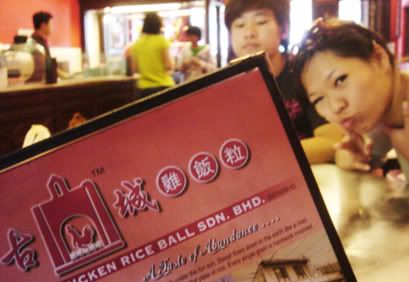 Only now, I realised
Afamosa Chicken Rice Ball
is one of the few authentic ones. The rest are just banging on the "
malacca-is-famous-for-it-Chicken Rice Ball
" concept to get sales *
Roll eyes
* This Afamosa CRB
(
OK enough! I typed Chicken Rice Ball for 5 times le! My hands are tired! So CRB is short form for Chicken Rice Ball! Shit, i just typed CRB again =___='''
)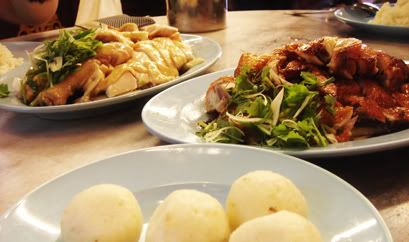 So we ordered half white chicken, half roasted chicken, Which makes one whole chicken, 4 erm...
What do you called those brown eggs?
Erm... 4 Hard boiled egg and CRB (
which is just chicken rice roll into small little balls.
) I think the overall bill was quite reasonable. Can't remember.
After walking around and asking for directions to find
Nancy's Nynoya
...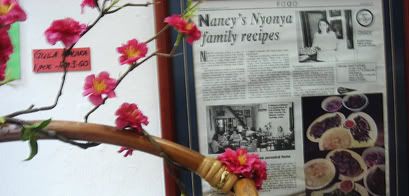 WE finally found it.
While places like F.O.S or those apparels stores was heaven for Me, Rinn and Ryan, this Nancy's Nynoya stall was heaven for Huixin
=___='''
She was busy choosing and choosing energetically , while the other 3 of us was yawning and yawning.
Finally it was time to head back to our hotel to collect our luggage and head to Makota hotel to board our coach... It was really time to head back to Singapore
:(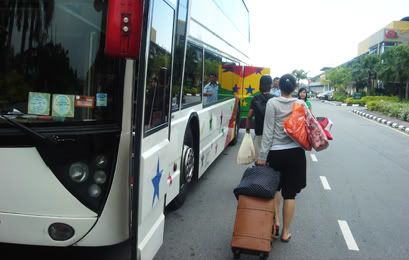 Bye Malacca.
Hello Singapore.
In case you don't know what's a Epilogue, it means -
An
epilogue
, or
epilog
, is a piece of writing at the end of a work of literature or drama, usually used to bring closure to the work. The word epilogue means to conclude a story or piece of writing.
Since I started the Malacca travelogue like a Book with prelude and chapters, I shall end it like a Book too. This travelogue took me almost
2 months
to complete. I rejected all advertorials so that these 6 post can go as a flow.
I really wanted to record the whole trip down on this special space of mine called a blog, Although I have like other commitments,
I told myself that I can do it
.
In malacca, I make it a point to record down everything (
well, almost everything
) so that I can write about it when i return. And I'm proud to say I did it!
Hereby, let the author say -
Thank you for reading, hope you enjoyed it.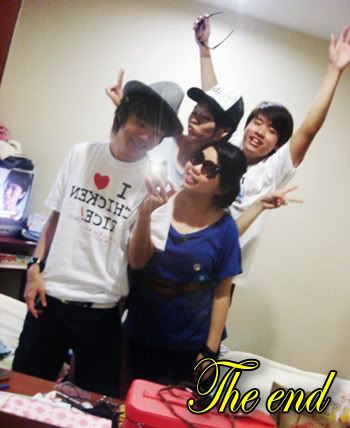 Suddenly, I felt a sense of achievement.
DAY 1 | DAY 2 | DAY 3 | DAY 4 | DAY 5