I was invited to the
MSI X-slim X340 launch
recently (:
I always wanted one of those small little laptop which I can bring around without feeling the strain on my shoulders, and this new MSI new laptop has just been added into my "
catalog
" of mini laptops. (
Btw, my catalog consist of only Acer aspire one and Eee pc.
) I really want to get one of those mini laptop leh!
The event was held at
Serenity Restaurant
@ Vivocity.
Since I get to bring a guest along, I decided to bring my twin along
(:
Sabrina was like asking me, "
eh, andy, your brother is which year de ar?
" Sorry Sab! Ever since the star trek event, you got the impression that Alton is my younger brother, haha!
A little powerpoint presentation started the event. The powerpoint really shows how good this little laptop is. During the presentation, we were shown 3 items -
A small watermelon
,
A 1.5 litre Mineral water
and
A thick magazine
.
We were asked to guess which item is te weight of the
MSI X340
laptop. Most people will guess the magazine.
BUT guess what?
The laptop is even lighter than the magazine. Weighing only
1.3kg
(: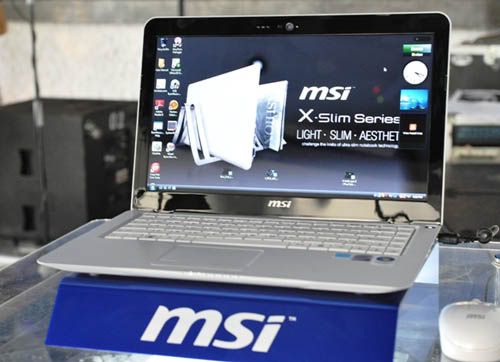 This laptop is the World's slimmest 13" laptop!
You can just whip it out of your bag and impress everyone with this chio X340
(:
After the presentation, we get to try the demo set and also to makan!
A buffet spread waiting for us! (
Yes, that's a chocolate fountain!
)
While eating, Models was carrying the X340 around
(:
The moment that everyone have been waiting for!
The grand prize which is a brand new MSI X-slim X340 goes to...
ANdyStorm!
Nah, That was just me getting a pair of movie vouchers for answering their Q&A. Oh wells, at least I won something
(:
The wonderful laptop went to some lucky guy.
Being
Bloggers
, every event always ends with...
Camwhore session!