My
Previous post
about my
Canon IXUS 95IS
and the
Selphy CP780
. This time I brought the camera to Jurong Bird Park! This camera is really handy
(:
Most of the photos in this post don't even need editing! Because of the
Intelligent Contrast
, the photos were brilliant, all I need to do is resize and crop
(: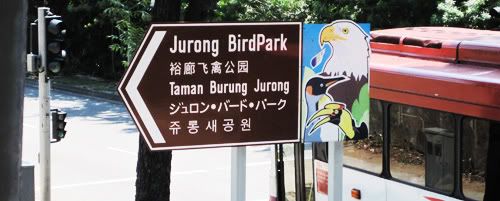 Alright, let's start with what happen that day! Meeting time was at 2pm, but I reached at like 2.30pm, late as usual
:/
I live in Pasir Ris and I have to take the MRT all the way to Boon lay, then take the bus to Jurong Bird Park! (
excuses!
)
The other bloggers were already there!
By the way, out of all the 6 bloggers, 3 of them are Mummy and Daddy bloggers! which is quite interesting. They brought their kids to the Bird park too
(:
Their kids are super cute! *
Pinch cheek
*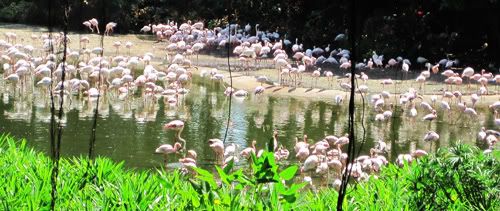 First stop was actually the "
Magic Zone
". A place for kids to entertain themselves with activities such as face-painting, or watch magician perform Magic but being
BIG
kids, I was more interested at the many flamingos behind :D
It's really ALOT.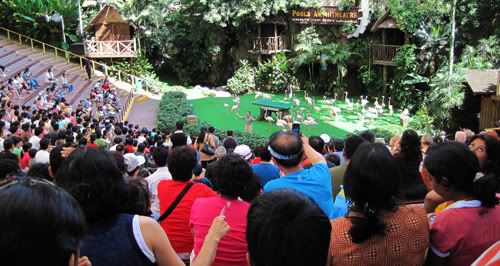 After which, we were just in time for the
Bird show
! I always look forward to these shows whenever I visit the bird park or the zoo. It's so much more fun watching them perform compared to watching them laze around in their cage/enclosure
(:
The same act they use for like dunno how many years to get the audience involved. Nevertheless, it was still quite fun to see 2 parrots competing with each other!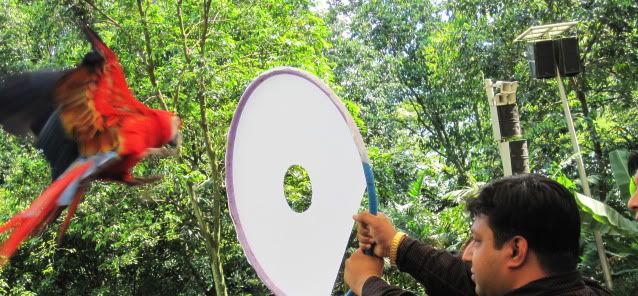 Parrots are like the "
main leads
" in these bird shows because they can do many things, like fly, no, I should use words like Soar gracefully through hula hoops.
They can even talk.
This parrot in the photo can say number 1 to 10 in English and Chinese. It can even sing a Birthday Song!
Kinda creepy though.
It's like someone faking it from behind :/
But the best thing is...
They give out free drink vouchers!!!!
Yes, I'm the lucky one to be chosen! Out of Sooooo many people among the show, ME! When the host asked for a volunteer who is not afraid of birds (
although i am abit scared. ESPECIALLY CROWS
), I waved my hand frantically, and
I CAUGHT HER ATTENTION
!
The parrot flew gracefully across everyone and landed on my outstretched hand, placed the voucher on my palm, rested for like 5 seconds and flew back!
So happy!
By the way, the above photo is not taken using the Canon camera.
Wait, actually it is.
But it's taken from a computer screen, because if i want the original photo, it's
15BUCKS
. But Clever and Quick me took a photo, and photoshop-ed it
(:
Everyone was enjoying the show!
At the end of the show, we get to go down near the stage to take photos with the parrots! This is the time where I get to see how good the camera is.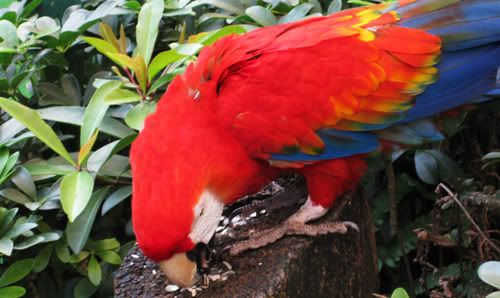 Just look at the photo above. With the
Auto Scene Detection
and
Intelligent contrast colour
, the result of this photo is perfect! I think Parrots make a good subject for photography as their feathers are colourful and contrasting...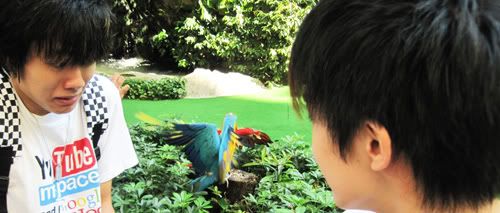 Super candid shot.
I'm not scared of birds lor!
After the bird show, We headed to the
Penguin Exhibition
! (
Which is aircon-ed!
), everyone was looking forward to
enjoy the aircon
! I mean, see the penguins
:D
Just nice it was feeding time when we reached the exhibit!
All the penguins were like chionging to the keeper when they saw the him. They are super huge, I expect them to be like small, short and cute
=___=
I think i watch too much cartoons.
Ya, I was expecting the penguin to be something like the one above
:D
A Special meet and greet session was arranged for the bloggers! We get to take photo with Pinky! (
Pinky is the name of the penguin, I wonder how they differentiate them...
)
While the penguin is cute, the kids were even cuter!
They like never see a real life penguin before!
They are like fascinated by it and their actions are
SUPER funny
, everytime they touch the penguin, they will rush back and hug their mummy!
Here is one of the group photos with Pinky the penguin!
Can you spot the 6 Canon bloggers?
The pink colour one is nicer lor!
The camera comes in
different colours
.
Lory Loft is actually a 9 storey high and the world's largest walk-in flight aviary for Lories and Lorikeets.
It has like 1000+ free-flying lories!
So what we do there is...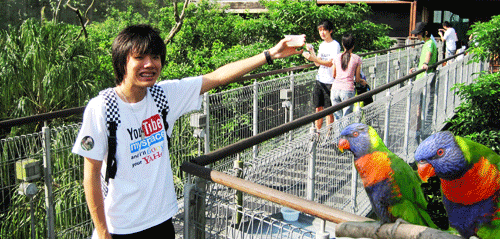 Feed the birds!
Yes, you did not hear wrongly, it's
FEED THE BIRDS
. We were each given a cup of what they called the "
special nectar mix
" (
which i think is barley lor!
), and we are supposed to walk around and attract those birds to fly to you!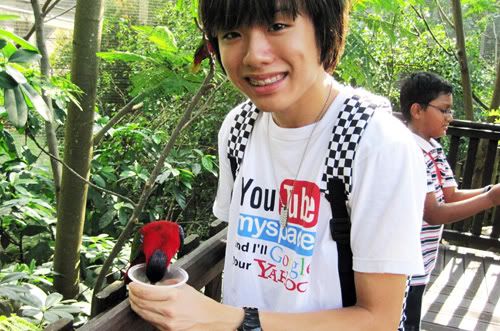 At first I thought that it's impossible that the birds will fly to you if they see you holding the cup, but they did! You just have to "
signal
" that you have food, and they will move near you and drink from your cup
(:
It's my first time!
One hand feeding the bird, the other hand I have to take photos with my camera, which would be quite unstable, but with the
Optical image stabilizer
, i managed to take clear shots like the one above
:D
Nice right? *
Beam
*
It was quite late by the time we finish feeding the birds + the weather was super hot, so we decide to call it a day.
Wait, are those orange flamingos?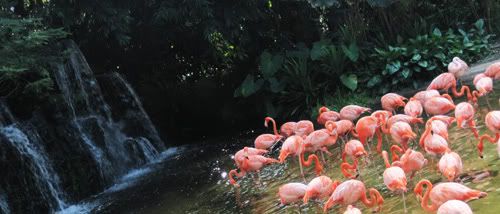 It's different from those that we first saw when we enter the bird park!

With the
3x optical zoom
and
12x Digital zoom
, I was able to zoom at one of the flamingos! The photo is still clear!
They are so pretty, esp when there is a lot.
This marks the end of my Bird Park trip!
Yes! I get to print those chio photo out using my
Selphy CP780
!
This is not a photoshop-ed collage. It's a
REAL
one.
Alright,
Hope you enjoy reading this post
! By the way, I think parents should bring their kids to these interesting places (
Zoo, bird park etc
) for a family day when they are young, There is so much to learn there!
Don't wait till they grow older
.